Posted by Drew Epperley
On August 6, 2010
0 Comments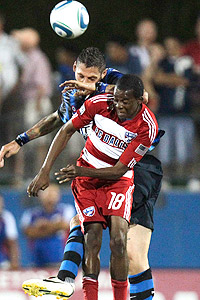 I debated all morning over a few things after last night's 2-2 draw between FC Dallas and the defending UEFA Champions League winner Inter Milan. It was a fun night that seemed to go on forever a bit. But overall things are looking up for a club that has not had this much good buzz in a long while.
Last night was the 5th anniversary of PHP. Hard to believe it but yeah five years ago Pizza Hut Park was the third soccer-only stadium in the league behind Crew Stadium and the Home Depot Center. I remember opening night very well as I was lucky enough to be there for it. The stadium itself wasn't totally finished or at least that's what they told folks. They capped the number of seats on the night but it was packed just as it was last night.
The one good thing about PHP being full is the crowd is really pretty good and festive sounding. I've been there for nearly all the sellouts in the stadium's short history for MLS-related games and it makes a huge difference for the club and the players.
Parking was $20. Either I missed the memo or nothing was actually said about this but for the first time in a couple years they charged the fans for parking. For the casual fans that don't go to regular FC Dallas games this probably wasn't a huge deal but to those who are actually there on a regular basis this was a big mistake and an even bigger turnoff. Without any sort of warning to the fans it was a bad way to start the night.
Cool statue of Lamar Hunt but…did they really have to unveil it last night? Most of us thought it made little sense to do it last night and not before a league game on Sunday but I see their reasonings behind it. First of all they wanted to show it off to a large crowd and second it was already finished so why the hell not? Still the little ceremony for the statue was pretty lame as they had a video playing before it as a tribute to Uncle Lamar that only folks sitting in their seats could see. Anyone actually infront of the new statue could do nothing but hear it.
Good work with handling the extra press. There was tons of extra folks in town for this one. In fact the press box couldn't hold all the press as they had to make a couple sections in the stadium for some press overflow. Thankfully for me I wasn't one in the overflow that was out of the pressbox.
But on the flip side the way they handled things for the press conference after the game was rather weak. Instead of ushering the press in the rooms used when Beckham was in town for the after game press conference they put it in a tiny corner in the upper part of the front office. Didn't make a load of sense really.
New GM Doug Quinn has some work to do. I got to meet Mr. Quinn real briefly last night, he's a smart dude for one thing but boy does he have some work to do around the parts there in Frisco. Thankfully he's already taking it upon himself to find out what needs changed there. As long as the notes he was writing down are taken serious around the stadium the fan experience and other little things will begin to really improve there.
FSC wanted the late start time. Some wondered why the game kicked off at 8pm and why the Sunday game against Philadelphia is at 5pm. Well as for last night FSC asked and the league said "sure" but really there was no real issue having it an hour later than normal. Due to the high heat in town right now it actually made it more pleasant to start it later.
As for Sunday there's no doubt the crowd will be lower due to the heat in the forecast this weekend. Who schedules a 5pm game in the middle of summer in Dallas? Come on MLS who's idea was that?
And about that crowd and the future impact of the Inter Milan game. That seems to be the biggest question around the league. What will this game do for FC Dallas at the gate and in the local circles. I think we'll see a bump, a very small bump in new fans come Sunday and onward for the rest of the season. With improvements in the front office taking shape and the team doing well it will only be a matter of time before the team's attendance numbers aren't as big of a joke as they've been over the last couple years.
I don't think however the club will see a boost in season ticket sales right away like Kansas City did after the Manchester United game. First of all they really need to restructure their season ticket prices. I know they have a little campaign going on right now for their season tickets for next year but they need to start lowering prices to get people interested in making the drive to Frisco.