Posted by Drew Epperley
On June 28, 2010
3 Comments
2010 World Cup, Bob Bradley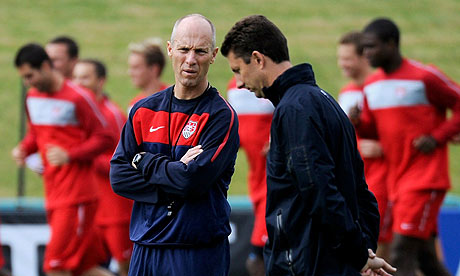 If you come here regularly then you know my feelings towards US Men's National team head coach Bob Bradley. You know that I've been a big supporter of his since his days of having an interim tag on his nameplate with this team.
Now that the US is out of the World Cup the usual questions of his future are being asked. Typically a World Cup cycle is all a coach gets, rarely do we see a coach get a couple cycles with a team.
In a way I'd love to see Bradley continue on with this group because there is something special there. During his four years in charge the team enjoyed what is arguably the most succcesful four-year period in the team's history. The team won the 2007 CONCACAF Gold Cup, finished second at the 2009 Confederations Cup, won the CONCACAF World Cup qualifying group and finished first in its World Cup group for the first time since 1930.
The track record is there for Bradley and in a way that should be enough if he were to want to stay on board.
But for some that won't be enough. There have been plenty of anti-Bradley folks out there due to his questionable roster decisions, his tactics and just anything else he does with the team. You could argue his lineup choices for the Ghana game put the team in a early hole with Ricardo Clark in the lineup instead of a Maurice Edu or Jose Torres. Bradley easily admitted to his mistake of Clark early in the match when he subbed him out. Then there was giving the start to Robbie Findley up top instead of Edson Buddle or Herculez Gomez.
So what becomes of Bradley? In a way I hope he is the one to make this decision. He's earned that much at least I would hope but more than likely that won't be the case. The USSF and Sunil Gulati are likely ready to move on and get a high-profile guy in on the job (hello Jurgen Klinsmann?). I've always said that if Bradley goes it will be a foreign based coach that steps in and takes over.
Again, for me, I'd like to see Bradley stay on but two World Cup cycles is a very tall task to ask of anyone. Hopefully whatever happens Gulati gets someone in that can understand how the US style of play is and perfects it. Also getting someone who understands the weirdness of getting players from Major League Soccer will be key.
So who would you like as the next coach? Do you want a high-profile guy or someone off the radar a bit?