Posted by Drew Epperley
On April 13, 2010
3 Comments
Robert Pires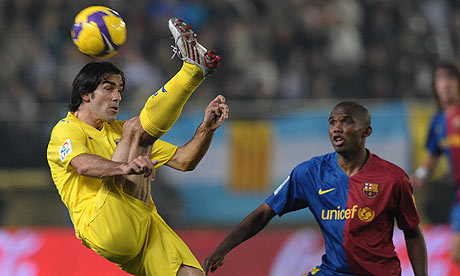 This summer has the makings of being a very fun one for Major League Soccer fans. Not only do we get the World Cup in June but the summer transfer window will be fun to watch now that the league has expanded the Designated Players rule.
According to MLSSoccer.com, the league is in contact already with French midfielder Robert Pirès. The Villarreal star could head over to MLS this summer once the transfer window opens up.
Where will Pires end up? According to the league not in New York.
"There is an offer on the table from an MLS team and we're trying to work the details," said Memed Djemmal, the U.S. representative for Pirès. "The negotiation is in progress and we are working on the details. It's just a matter of him finishing at Villarreal properly because he has a super relationship with the club there."

The New York Red Bulls have been reportedly seeking to finalize a contract with a left midfielder before the close of the current transfer window on April 15. However, while Djemmal would not reveal the MLS club pursuing Pirès, he did reveal that the former French international will not play for New York.

League sources on Tuesday confirmed that the Red Bulls were not a candidate to land Pirès.
This could be the start of a crazy few months for the league if they sign guys like Pires. I honestly have no idea where he could end up in. Of the few clubs I think that could want a player like Pires in their midfield, Philadelphia, Seattle, LA, and Chicago all come to mind. Its just a matter of where he wants to go in this league.