Posted by Drew Epperley
On October 13, 2009
8 Comments
Don Garber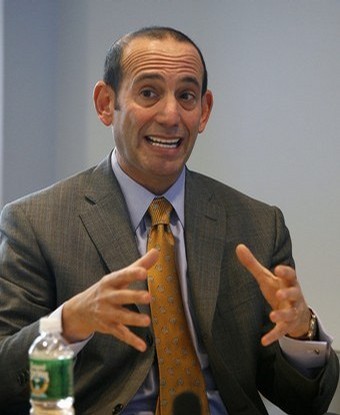 Most of you probably at one time or another saw the reports yesterday that Don Garber and Major League Soccer are "looking into playing indoors to shift season schedule." I waited until this morning to really gather my thoughts on this matter and because I just ended up with no time last night to get anything done (I had a good excuse I was seeing U2 play here in Dallas).
Some folks will probably like this news that the league is looking into the possibilities of switching their season schedule around to line up with the big leagues of the world. It lines the league up with better transfer possibilities and what not which is good.
The thing is as we all know switching to a more European calendar possesses far too many problems for teams in cold weather areas during winter. The majority of the league would have an issue with playing in the dead of winter if the league's schedule lined up with Europe. Of course we all know what winters in Chicago, Toronto and New England are like. Let's also not forget it gets pretty cold in Seattle and Kansas City too during that time.
So the league is looking at possibly playing indoors to combat this issue. Great, so does that mean the league is going to ask it's owners to all spend the money on putting roofs or retractable roofs over their stadiums? What would that mean for New England and Seattle who play in NFL stadiums that are open-air? I doubt the league can just suggest they both add a roof to make FIFA happy here.
To me this is just the league and Don Garber trying to make FIFA president Sepp Blatter a little happier for a few weeks. Blatter has wanted MLS to switch to a European style calendar for years and he pretty much won't be happy with the USSF and MLS until it happens I believe.
The league will however eventually get to this kind of calendar even though they may be wiser going to a calendar style more like in Mexico or some South American leagues.
So what do you make of Garber and the league saying they are looking at possibly playing indoors  down the road to get the league on a different calendar each season? Will it happen in the next 10 years? Or is this going to be a slow long-term switch? Or will it just never happen?