Posted by Drew Epperley
On May 19, 2009
16 Comments
Geoff Reid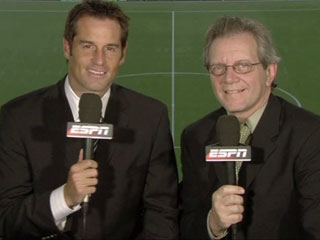 Editor's Note: Geoff Reid appears here on WVHooligan.com each week. This week he returns to tackle the fun issue of who is and who isn't the best commentators in the game right now. Feel free to leave him a comment below.
We often discuss amongst friends and read on fan message boards our thoughts and feelings towards certain remarks that the color or play-by-play announcer said on air. Sometimes we agree, most of the time we do not. The beauty of our game is that nobody ever has the same opinion. Sure some folks have no idea what they are talking about, but for the most part our differing opinions on the beautiful game comes from the different types of football weíve grown to love. So all in all, you canít please everyone, and Iím going to go through a list of commentators I like and dislike. In my personal opinion, Martin Tyler and Andy Gray from Sky Sports in the UK are the two best anywhere and this is because I grew up watching and listening to their telecasts so itís tough to please me!
JP Dellacamera and John Harkes: I really like these two, Iíve read information about folks who donít however. John Harkes has played at the highest level and knows the game better then most. Sure, heís very bland, and doesnít get you all that excited, he just keeps it plain and simple when explaining what has just happened. JP doesnít overstep his boundary like some play-by-play announcers do when giving their two cents. Watching some Premiership matches of FSC, some of the English commentators say too much when their job is to call the match the way it is. The opinion is for the color commentator only.
Derek Rae and Tommy Smyth: Iíve never been a fan of these two. Derek Rae has grown on me over the years and I can see why people really like him. Certainly he is one of the best in this part of the world. He was certainly good with Andy Gray during Euro 2008 on ESPN last summer. Tommy Smyth on the other hand, not a fan to put it kindly. His term ďback of the auld onion bagĒ that he says time and time again is enough to turn you away from the game. Put all of Tommyís annoying lines and phrases aside, I wonder why he is actually still commentating on Champions League matches. He has never played the game at an organized level or even coached before. I think itís fair to say all of us know more about the game then Tommy does.
Max Bretos and Christopher Sullivan: This is an interesting pair because Iíve read very mixed reviews of these guys. I like Max Bretos. I can understand why a lot of folks donít like him at all with his ďYES!Ē Trademark every time a goal is scored. I like Max because not only does he love the game, he is his own man. Simply put, he has his own style compared to other commentators who try too hard to copy Derek Rae. Bretos seems to have a wide knowledge of the game and is a real football man unlike Dave OíBrien who ESPN chose randomly for the World Cup in 2006. Sullivan on the other hand I canít stand. I respect what heís achieved in the game, his knowledge of the sport is immense and thatís fine. What I donít like is him trying to speak with a foreign accent. If heís going to do that then why doesnít he pronounce Terry Cookeís name in an English accent, or Shalrie Joseph with a Caribbean accent? Just speak normally, please! Also, Iíve noticed Sullivan hardly criticizes anyone and Iím not sure if he can because the head honchoís of the league are watching, but John Harkes doesnít say everybodyís good. I would be happy to see Sullivan gone and replaced by Brian Dunseth.
Phil Schoen and Ray Hudson: Probably my favorite pair in North America. Phil has been doing it so many years and his wealth of knowledge and experience is such a joy to listen to. As the play by play man, he doesnít give his ďexpert analysis.Ē He just leaves that up to Ray Hudson. Ray on the other hand, love him or hate him, he gives you your moneyís worth. I donít always agree with him, especially his views on Chelseaís performance at Camp Nou (and Iíll defend that performance until the day I die), I respect his opinion and he gives his honest opinion. On top of that, how can you not like his metaphors? Classic stuff! Heís better then a lot of English so called ďexpertsĒ and he is definitely a steal for Gol TV.
After these pairing it basically goes to regional broadcast teams and I canít speak for every market, however, there are some guys I like a lot and some I donít. Folks I do like are Glenn Davis (who can be both color and play-by-play) because he has a terrific background in the sport, Brian Dunseth as I mentioned before because he goes into detail and often sees something I missed, Thomas Rongen with his wealth of knowledge, Christian Miles who does get a lot of stick, but like Bretos, he is his own man and Iíll give a shout out to Kevin Calabro up in Seattle who was a basketball man that seems to be learning the ways of the beautiful game well and thatís good to see.
Now for others I donít like are Greg Lalas who I listened to on local telecasts when I was in college in the Boston area. He just seems to point out the obvious. The San Jose Earthquakes broadcast team of John Shrader and Troy Dayak get on my nerves, especially when Shrader makes it sound as if were watching the match in Spanish language instead of English when an Earthquakes goal is scored. Dayak on the other hand, like most color commentators just points out the obvious that I see all the time. I understand that I missed a lot of regional commentators and apologies for that, I just havenít heard enough to form an opinion on all of them. I understand we all have our favorites and ones we donít care for. When I look at a color commentator I want him or her to point out things that I canít see and thatís why Andy Gray is my favorite. Martin Tyler compliments him perfectly and as I last remember he was always the man with statistics. I just hope Gray comes back to ESPN for the World Cup next summer as it was refreshing hearing his voice again during the Euros last year.