Posted by Drew Epperley
On March 26, 2009
2 Comments
Ade Akinbiyi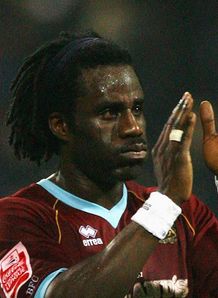 Journeyman Ade Akinbiyi is close to signing with the Houston Dynamo. Yes, the club that nearly landed Luis Angel Landin and Omar Bravo is now close to signing the 34-year-old Nigerian.
I guess this is plan E or F for the Dynamo in their quest to find a partner for Brian Ching. The club could sign him as early as next week if the physicals and paperwork all go through well.
I gotta say though, a 34-year-old journeyman like this doesn't sound like a good match for a club that usually finds talent in better places. The club still could sign Swedish player John Pelu, who is on his last day of trial with the club. But it looks like Akinbiyi could be the guy in the end for the Dynamo.
He could surprise us all here if/when he does come into the league. Its possible he could be a Darren Huckerby-type of signing. Then again he will probably be more of a Tomasz Frankowski-type of signing.
What do you think of this possible signing by Houston? Good move or are they just settling for what they can get at this point?