Posted by Drew Epperley
On January 26, 2009
2 Comments
Gregory Richardson, Keon Daniel, Mo Johnston, Winter Transfers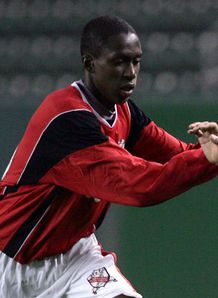 It seems like trader Mo is just getting started. He got Dwayne De Rosario to come home to Toronto and now it looks like he is expected to try to bring in some more depth before the 2009 season kicks off in a couple months.
Trinidad and Tobago international midfielder Keon Daniel is set to possible come in on a trial with the Canadian side soon. The 22-year-old has 5 goals in 15 appearances with the Soca Warriors and has previously had trials with Manchester United and West Ham United.
Daniel is a young midfielder that would more than likely complete the core group that Mo Johnston is looking to have in the midflield for Toronto. Already having Carl Robinson, Amado Guevara, Rohan Ricketts, and de Rosario in the mix, you have to think adding one more solid player like Daniel to the group would easily make them the best midfield group in the league.
Another player that is being link to try out with the club is Gregory Richardson. The Guyanese striker currently plays with Joe Public FC in Trinidad and Tobago. Some may recall his hat-trick for them in their 4-0 win over the New England Revolution in the CONCACAF Champions League last year.
Earlier reports had linked Richardson to Columbus but it looks like the Crew's rival to the north is trying to sign up Richardson before they do.
A lot of buzz after the draft surrounding Toronto continues with possible moves and other discussion around the club. Its fair to say that Toronto should have much more depth this year than in the previous years. It would be hard to imagine them not contend for a CCL spot out of Canada this year if they sign a few more guys like Daniel and Richardson.