Posted by Drew Epperley
On September 9, 2008
0 Comments
iPhone games, Video Games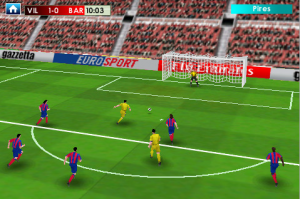 Normally I don't talk about mobile games or video games in general. I do play the FIFAs out there and pretty much have been playing them since the good ol' Sega Genesis days. Now days a lot of my gaming is on my iPhone because I don't have a lot of time to sit down and play a lot of video games like I use to and plus the only gaming console I have is a Nintendo Wii.
But today I found a new game for my phone, "2009 Real Soccer". Okay, the title of the game stinks but I must admit the game play is pretty neat for a phone (just as most games are for the iPhone). It has real players and 12 real stadiums. For a soccer game on a cell phone it is about as good as it gets I think. Its old school soccer video game with a big splash of new school.
It is pricey at $9.99 but believe me its worth it if you got time to kill while you are waiting on people or various things.
Below is a video from the game that I found out there on Youtube. If you have an iPhone check it out.