Posted by Drew Epperley
On June 16, 2008
0 Comments
Brek Shea, Jared Borgetti, Nolberto Solano, Paul Dickov, Summer Transfers, Transfer Talk
Another Monday Kicker here on WVHooligan.com. We are zeroing in on that summer transfer window to open up so of course there is a lot of talk right now in the world about a few players making their way to the MLS. Some are probably decent rumors, while others are probably nothing more than a bit of talk.
You can be the judge on some of these rumors, I'm fairly certain about some of these. Forgive me if some of this is a few days old.
I want to start here in my town, Dallas, about a little rumor about Manchester United going after teenage prospect at FC Dallas, Brek Shea. I know this one is almost a week old but it falls into the category in my books of a "yeah, riiiight" in terms of likely happening.
Here's what the report says on ManU and Shea:
Alex Ferguson is chasing big Brek Shea – the new rising star of United States football.

Manchester United's top scout Jim Lawlor is preparing to fly to the States to watch the giant 18 year old, who is skipper of his country's youth team, on the orders of Old Traf ford boss Ferguson.

The 6ft 3in Shea, who plays for FC Dallas in the MLS, caught United's eye at last month's Toulon tournament in France, where he stood out despite being years younger than most in the under-23 category.

The powerful Shea, whose family is of Norwegian stock, can play at centrehalf or in midfield and has been outstanding in his first season as a professional in America.

Shea is a colourful character who used to have a Samuraistyle haircut until he was told to get it trimmed by a national youth team coach.

He now sports a more conservative look that would meet the approval of strict disciplinarian Sir Alex Ferguson. The billionaire Glazer family, who own United, would love an all-American boy to sign because the potential spin-offs would be huge.
Honestly, I love Bristish writing. Especially when they know absolutely little of what they are talking about when it comes to Major League Soccer. I know Shea had a great time with the U-23 National team in France a month ago but that most certainly won't be enough to get him to join a club like ManU.
Shea was the second overall pick in this year's SuperDraft. He's largely seen as a big time project for FC Dallas. He has the tools and the talent to be a big time player I think, but for now he is only seeing reserve time. Plus there is the argument in Dallas surrounding some of the young players that he isn't nearly as good as fellow rookie Eric Avila. Its an argument but nothing more.
I wouldn't read too much into this rumor just yet. Maybe if Shea had actually seen significant time on the pitch this season and had done well we would be a little more serious about this.
————————————————————————————–
Deseretnews.com is reporting that German midfielder Sebastian Schindzielorz is currently on trial with the  club. Schindzielorz is currently plays his football with Levadiakos in the Greek 1st division (Super League Greece) has played in the German Bundesliga with VfL Bochum and FC Koln.
He's brought in by management for his athleticism and could fill the vacant roster spot.
His trial began a week ago with RSL. No word really yet on how it is going. The club is exploring other options with their open spot so you could see another player or two come in on trial real soon to compete for the position.
As we've seen in recent weeks, this club needs a strong midfielder, particularly on the wings. Schindzielorz could be that guy as he does have the experience and could be a good fit for RSL.
————————————————————————————–
We all know the New York Red Bulls are looking to make a few moves in the next couple of weeks once the transfer window opens up for them. Now the word around the internet world is that a former teammate of Claudio Reyna at Manchester City could be on to join the fun. Paul Dickov had been linked with a couple clubs earlier in the year and is now in line to possibly join the Red Bulls.
According to Sky Sports and Setanta, he may come over during the summer window next month.
The Scottish 35-year old sounds like a bit of a waste to me. I know the club needs a striker at this point but getting an aged striker may not be the answer. He knows how to score but hasn't seen a lot of competitive action over the last couple of years as Man City has loaned him out to a couple clubs.
The biggest reason why anyone is speculating his name right now in a link to MLS is due to his time with Reyna and Red Bulls coach Juan Carlos Osorio. Yeah, it may be nice to get a familiar face in the locker room for these two guys but that doesn't mean it will work out. This club needs a player with pace and the ability to knock in shots. I'm not saying Dickov isn't that player but to me this just doesn't seem like a smart move for the club if it is going to happen.
————————————————————————————–
Another EPL player is being rumored to a move across the sea to MLS. Nolberto Solano of West Ham United is said to be on the move this offseason. A couple MLS clubs have said to be interested in his services. Solano wants to say in England for another couple seasons if possible but he could make the jump if the right deal comes along. Liverpool is rumored to bid for the winger, so if that is the case throw this one out.
The 33-year old midfielder from Peru could be a good fit for a number of clubs. I could actually see this guy working out in New York or for a club like Chivas. He has good pace and certainly knows how to score.
The biggest draw for a MLS club is the free transfer part. His contract with West Ham ends at the end of the month and it wouldn't be too difficult to get him to the States if he really wanted to come.
————————————————————————————-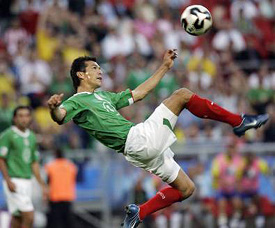 And lastly for the day…is another edition of the Jared Borgetti to MLS rumor. This time MLS Rumors is linking him to the Houston Dynamo as possibly their designated player.
Uh, yeah, right. Houston wants and needs a striker like Borgetti but currently lacks the funds to do so. They would first have to dump a player in a trade or something along that lines to free up the cap space and then sign him to a deal either as a DP or something on long the lines of one like a Schelotto.
He's been linked before in 2006 and again in 2007…and now again in 2008 to MLS. Will it happen? More than likely at this point it won't happen. That is unless some team or the league makes him a deal that he cannot turn down.
Would I like to see Houston sign a player like Borgetti? Sure, if the right move presents itself. Colorado, Chivas, and San Jose have all said to be interested in him in the past. Now Houston is getting their turn on the rumor mill with him.