Posted by Drew Epperley
On June 11, 2008
0 Comments
Andy Iro, Chance Myers, Geoff Cameron, Julius James, Justin Braun, Kheli Dube, Rookie Watch, Sean Franklin, Shea Salines, Stephen King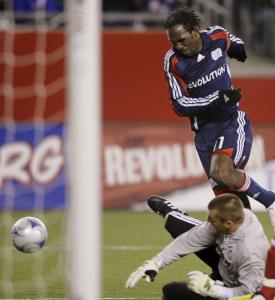 I realize it's been well over a month since I last updated this watch list. For good reason too, there was no need early on to update this kind of a list from week to week. That will come more in handy once we hit late August and September here. But since summer is starting up its a good time to revisit this list and give it a swift update.
A few more rookies are really starting to make an impact on their clubs here as we move forward and approach that half-way line of the season (believe it or not we are only a couple weeks from that). More rookies are starting to get playing time as the US Open Cup rolls around and even more so in league play. They are either earning their spots in practice or are filling in for injured veterans. Either way, some are starting to make the most of their chances here.
Again, this is a watch list, so for now there isn't a real order here on the players. Though before long expect the order to be one of a ranking-style, but that won't come until later this summer I would assume. I know I said before I would need a few weeks to truly get a top five, well it looks like I need more time on that. Mainly I want more time on that.
Here we go…
Sean Franklin (LA) – As I've probably mentioned before, he's got a real shot at winning this award this season because of how he is playing on LA's backline. He's been a real consistent force in the back for a club that doesn't have consistent defense. Without him back there this club would have given up way more goals than they already have.
Danleigh Boreman (NY) – This Supplemental Draft pick provides loads of pace on the wings for New York. Not great a shot though, even with the two goals he scored. He has gotten better, I will admit that but he still needs work on his touch and striking. If he helps lead New York back into the playoffs, expect him to get a lot of votes.
Kheli Dube (NE) – Another Supplemental pick on the list. We've seen in recent weeks just how good this kid is becoming. All the goals he's provided were at big moments in the game. Makes me wonder if he will be that spark that allows New England to finally get over the hump in big games.
Chance Myers (KC) – Number one pick has to be on the watch because he is the number one pick. Because of the way KC has played this year it is going to take a lot for Myers to get more press in this award. Right now his chances aren't that good of winning this because of his club's form. Though, like Boreman, should he lift his club into the playoffs he will get plenty of votes.
Justin Braun (Chivas USA) – Stepping in for Ante Razov and Maykel Galindo in recent weeks. I liked Braun when I saw him in week one in Dallas and thought he had the potential to be a solid rookie. There are still aspects of his game that need work but that will come in time. I'm curious to see the playing time he gets when Galindo and Razov are finally healthy here this season.
Julius James (Toronto) – I know this is mostly on one game where he scored but I know this kid has the real potential to be a rookie of the year candidate. He is starting to get in John Carver's lineups more and over time we will see exactly how good this kid really is.
Some guys on the fringe of moving up into the main discussion:
Stephen King (Chicago) – Getting plenty of time in US Open Cup games (scored last night against Columbus) and in regular season games too. The kid can score as we all know, but a guy like Brian McBride on the way, it looks like King will play more in reserve this season.
Geoff Cameron (Houston) – Has played well off the bench for the Dynamo. A couple assists and a goal on the year if I am not mistaken. I only have him down here because he comes off the bench and doesn't start. Most of the guys above him start.
Shea Salines (San Jose) – So raw and yet so much pace from this kid. I've said before the potential is there but before long it has to come out and show. Plus we don't see him for a full 90, that will hurt his chances at this award.
Andy Iro (Columbus) – He may make a serious run to move up the discussion here once he starts more. Sigi Schmid has full confidence in Iro and really for good reason. He's big, strong and has a great soccer IQ. All the things you want in a center back.
Anyone I've missed? Let's hear it