Posted by Drew Epperley
On April 24, 2008
2 Comments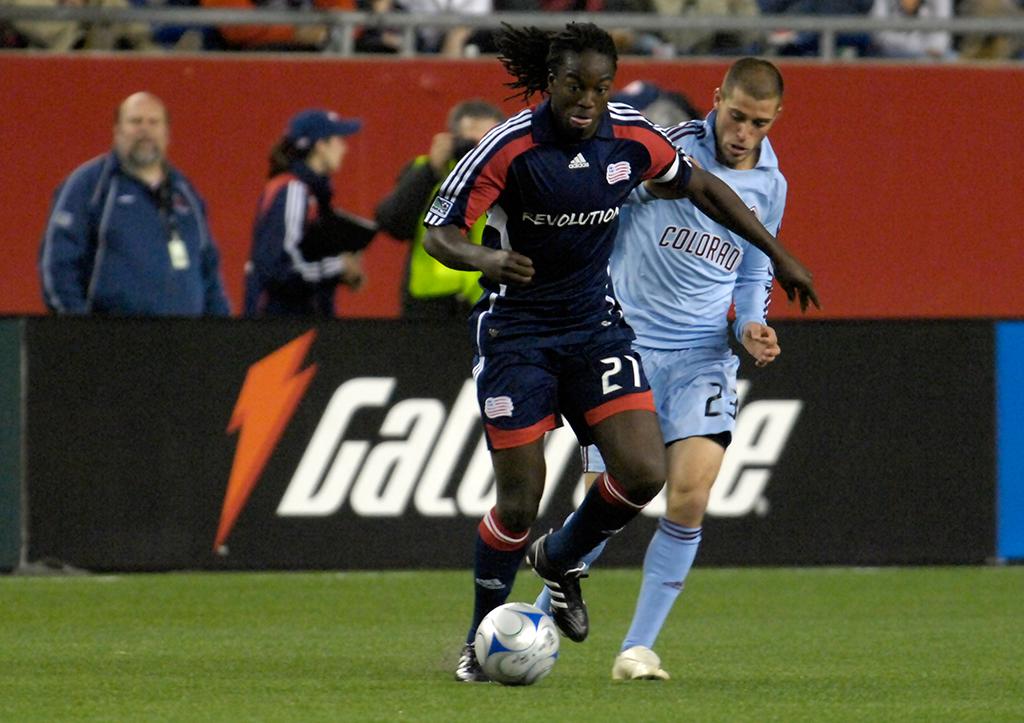 Another Thursday night on ESPN2 pits two clubs that should match-up very well with one another. I was hoping to be able to attend this game personally but due to work related reasons I will be watching the game elsewhere. Sometimes you just have to bite the bullet and go to work right? Yeah, anyways, this game should be entertaining nonetheless in Frisco on 'Dollar Night', yup…certain concessional items (hot dogs maybe?) are a dollar.
New England Revolution – at – FC Dallas: Again, I'd love to be at this one in person because it pits the league's only undefeated club against the one club that has probably been through more injuries and suspensions so far this season and are still playing well through it. Yeah, New England heads back to a place where they've lost two MLS Cups, but won one US Open Cup. Dallas would love to avenge that US Open Cup loss tonight.
Many questioned Dallas's defense going into the season and with good reason. But after four games the Hoops have only given up four goals and the last two games were shutouts. Had it not been for two late goals this club could very well be sitting at 4-0 in the standings. But as luck would have it they drew those games and only have eight points instead of 12.
We all knew New England's depth would be in question this season but so far, even through a 2-2-1 start, I think this club is one of the more stable of the league. Injuries have played a huge part in their start but Steve Nicol has plugged away with players who haven't had the experience and it is paying off.
This should be a fairly even match-up. Neither club is really at full strength here as Dallas could see Pablo Ricchetti and Juan Toja sit out again with injuries. The Revs are already lacking Steve Ralston and Taylor Twellman and may see Chris Albright, Sainey Nyassi, and Jeff Larentowicz miss time in this one. My money is on those last three to play for the Revs tonight but you never know.
The biggest thing for the Revs is the loss of Mauricio Castro, who is out with a red card for the attempted groin kick to New York defender Kevin Goldthwaite. Not having Castro will play a big part in this game for the Revs. He's been a very underrated player in the middle for them this season. My bet is Nicol will try and plug in another newbie in Argenis Fernandez to the lineup.
New England must control the wings against Dallas. Using the speed of Nyassi and Mansally will be very key. Dallas has done a good job against clubs this season with their new formation (3-5-2 and even the 3-4-3 they used against Chivas on Sunday) to not allow the ball to get clogged up in the middle of the park. The Hoops use their wings very well and have a good shot to do so against the Revs.
How New England handles Kenny Cooper and Arturo Alvarez will be interesting. When they lost to Chicago, it was mostly do to a strong performance by Chad Barrett and Tomaz Frankowski for the Fire. New England's backline bad no answer for those two and judging from what I've seen out of Cooper and Alvarez this season it could be a long night for the Revs in this one.
I expect Shalrie Joesph to be the difference maker in this one for New England. He is playing very well this season and he will help find a way to slow down the Dallas attack. Don't sleep on Larentowicz in the midfield either. He may be one of the most underrated players in league history. His play dictates what Joesph can or can't do out on the field.
On the Dallas side of things, watch for the match-up of Drew Moor and Mansally. Moor (and Adrian Serioux as well) has done a good job shadowing the opponents top forward and keeping them away from Duilio Davino in the middle. Moor and Serioux keep he pressure off Davino, which is allowing Dallas to be more fundamental in defense. If those two slow down the Gambians, look for Davino to handle Adam Cristman.
Set pieces will be big. Dallas has given up a lot of corners this season and New England knows how to make the most out of those set pieces. That could potentially be a danger point for the home side.
New England knows how to win in Dallas so I expect this to be a close game. In fact I wouldn't be at all surprised to see the Revs end the unbeaten streak of the Hoops tonight. History really isn't on Dallas's side as the Revs won seven of the last eight league meetings between the teams, dating back to Aug. 11, 2004. Also since Aug. 4, 2001, the Revs have won 10 of the 13 games played between the clubs.
Amazingly in the history between these two clubs, only one draw. Tonight that number will increase by one. I think things are pretty even here with these two clubs. Dallas looks like they can win but if I know anything about how the Revs play, they will show up in this one and look to knock off the league's only unbeaten team.
WVH Prediction: New England 1, Dallas 1