Posted by Drew Epperley
On March 18, 2008
6 Comments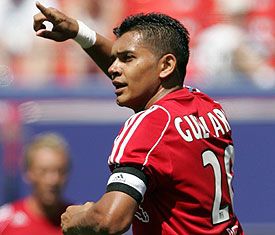 While some clubs have made a splash this offseason, others like Toronto are still working very hard to get at least one or two players to their roster before the end of the month in order to feel a little bit better about their chances this season. The Reds are doing just that as they are close to reaching an agreement with former Chivas and Red Bull midfielder Amado Guevara.
A couple things still need to happen before we see him in Toronto sporting a bright red jersey with BMO on the middle of it. First he and his current club Motagua have to come to terms to release him from his contract. Then Chivas USA has to decide whether or not they will block any sort of deal. From what Ives is saying they won't since they can't fit him in their roster right now due to cap space anyways and probably more importantly they don't want him back to begin with.
Its a big gamble on a guy who has been seen as a cancer in the past in the MLS. However Ives also mentioned that he has matured a good bit and also points out that he would be in a very nice situation in Toronto in terms of a formation on the field and the type of crowds he would be seeing at BMO Field.
Another nice thing for the Reds, they won't have to give anything up to get Guevara in this deal. Though I wouldn't be at all shocked if they threw a late round draft pick at Chivas to kind of make up for things here. Guevara will probably earn somewhere in the neighborhood of $200k – $300k, pretty standard if you ask me for a former MVP that will impact games.
Honestly this is a good move for Toronto. They need that impact midfielder to bridge the gap between Maurice Edu, Carl Robinson and their strikers. He is a big upgrade in my opinion to Ronnie O'Brien in the midfield and he should be able to stay healthier more than O'Brien. I doubt the fieldturf will be an issue for him but you never know. Still, it is good to see that Toronto is trying anything to build a team that will be competitive in the east here.
As much as I don't care for Guevara and his recent actions off the field, this move makes sense, especially if he has cleaned up his act and wants to play in the league again.
Is this a big gamble for Toronto? And will it pay off if it goes through?