Posted by Drew Epperley
On February 19, 2008
0 Comments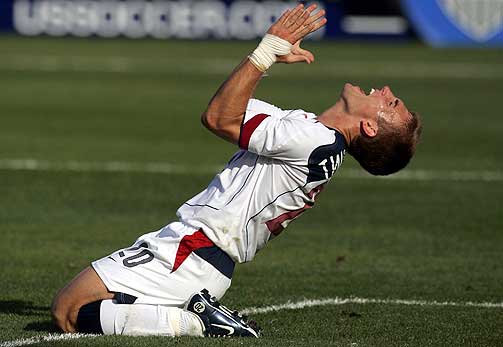 Afternoon to all, a few things to talk about this afternoon. Most importantly about a designated player in New England.
Yes you read that correctly. New England is looking at signing a designated player in the near future. The Revs announced the signing of Honduran midfielder Mauricio Castro yesterday and are set to sign a couple more players before the end of the week.
Costa Rican defender Gabriel Badilla has been rumored and trialist Javier Delgado appears to in the mix for signing as well. One or both could end up with the club.
But even with one or both of those the club apparently has set aside enough money to sign a striker at a DP price. Kind of surprising news to most since the Revs typically are regarded as the biggest tight-wads in the league as far as spending money on new players. Not to mention owner Bob Kraft's comments on the designated player spot to begin with, if I recall correctly he said he would probably not use one for a couple season. I could be wrong on that but I am pretty sure he said that one time or another.
Obviously this news means that Kraft and company hate losing in the MLS Cup over and over again and they know they need to use the money that they do actually have on some talent. Good to see if it does come true.
Reports out there suggests now that the Red Bulls won't go after Wilham Conde, despite his desire to reunite with coach Juan Carlos Osorio again.
New York would have to give up a decent bit to get Conde and I can almost bet that Chicago hates giving into New York's wishes every time. They lose a coach and could lose a player here and that does suck if you ask me.
Honestly they should stick it to New York and trade Conde to a western conference side like Dallas or RSL. Would it make sense for any club in the west? Sure, but I don't know if any club out there wants to deal with the possible headache that Conde could bring if he is traded to someone not named Red Bulls.
——————————————————————————————————————————–
As Houston travels to Hawaii to being their season in the Pan-Pacific Tournament with the LA Galaxy this week, back home the club is still working out a deal with the city for a stadium. The city is trying to free up land for the Dynamo to get a stadium in place but there are still plenty of hurdles to overcome to get it going here.
At least they are talking about it, which is always better than keeping it in the dark and not talking about it.
Let me make this clear, Houston will have to get a stadium deal/construction on an actual stadium within the next three years to be able to stay in the city. Seriously, even though they are doing well in the city you can bet the league won't wait around for a new ownership group and a deal on a stadium for long. They want to stay in Houston but can only do some much pushing for a stadium.
I still believe this club will last in Houston though and a deal will get worked out but the harsh reality lingers around them if something falls through.
——————————————————————————————————————————–
German Lars Ricken is no longer with the Columbus Crew as his trial with the club has ended. Not a real surprise to me if you want my honest opinion. I never thought Ricken was the right move for the club in the first place and it looks like they have moved on to try and sign two Brazilians, forward Guilherme So and left back Sandro Jose; also Nigerian attacking midfielder Emmanuel Ekpo is still in the mix for a contract.
Nice to see the Crew going after a couple South Americans and one African player here.
——————————————————————————————————————————–
Some pre-season friendlies in the next couple of days of note:
-Wed Feb 20
LA Galaxy v. Gamba Osaka in Hawaii at the Pan-Pacific Championship
Houston Dynamo v. Sydney FC in Hawaii at the Pan-Pacific Championship
Chicago v Toronto in Bradenton FL
Chivas USA v UC Riverside at HDC
Bermuda Select XI v New England in Bermuda
——————————————————————————————————————————–
Steve Goff wrote this little nugget about the US Open Cup yesterday that I must have read right over, very good stuff really.
The U.S. Open Cup schedule is much more compact this year. Pending USSF approval, the round of 16 to the championship game will be held over an eight-week stretch between July 1 and Aug. 26. No more late-round matches in the fall, when MLS clubs are focused on the playoffs.
This is all good news to hear really, because the later the Open Cup runs the worse it means for the MLS. I still love the idea of moving this tournament even earlier into the calendar each year and get it started in pre-season and finish it up in early summer before the international competitions kick off.
As much as clubs don't put into this tournament I think getting it out of the way sooner will only make it better. Its the oldest damn cup here in the States and it needs better respect than what has been given to it in recent years. Hopefully, this will get the ball rolling on it and the USSF will see that moving it up earlier in the calendar will only help it out and make it better.